Social History...
Farms and Houses
FARMHOUSE – THE GREEN - Mr W. Goodings farm house on The Green was a very old one (now demolished) as there is a memorial in the church to a Doctor who lived and died there in 1799. Little is known about the house apart from that it was built around the 1500s, originally thatched. I had been told that it was originally the village school, then a doctor's house and finally my great great grandfather's as a farmhouse. Alan Goodings

THE ISOLATION HOSPITAL - was used as a cottage when I was a child and is called the Pestry, a corruption of the Pest House. It was taken over again by the Rural District Council and two new wards built for diphtheria and scarlet fever.

THE OLD VICARAGE - in Church Lane was used by the Rectors until the present one was built in 1850 or 1860.

THE FARM on Low Street - occupied by Mr Sheldrake is supposed to date from Elizabethan days by the chimneys. GREEN LANE or GIN LANE, it used to be called as it was a smuggler's hiding place.

THE OLD HALL - Contains some lovely woodwork and carving and there is a small bedroom over the porch, where a lover kidnapped his girl as she was mending her stockings and I remember being told this tale, the moral being not to mend the stockings we are wearing, without putting on another pair.
Edith Cook

LYDGATE LODGE - The bungalow 'Lydgate Lodge' on the crossroads of Morleyfield Lane and High Road, originally name 'FlowerVu' was built in the 1920s and extensively modernised in 1972. The bungalow occupies one third of an acre and is listed as being in the parish of Morley St Botolph although the other side of the road is Wicklewood. Local history states that the land on which the bungalow is built was named as 'Hangman's Patch' whilst a piece of land across the road was called 'Hangman's Piece'. Local felons were, supposedly, hanged at the crossroads and the hangman given the use of the two pieces of land as all or part of his fee. Swingey Lane, just down the road was, again according to local folk lore, named thus as this was the road upon which the unfortunates received their first glimpse of the gallows.

WHITE HOUSE 110, High St, Wicklewood - Approx year built 1600
Claim to fame; Was Wicklewood Post Office.
Utility room/downstairs bathroom used to be the P.O Strong room.
Ms Donna Courtice-Moss.

WOOD FARM COTTAGE Crownthorpe - Approx year built 1939
Was the last house built on the Kimberley Estate.

PRIMROSE FARM -
William Cook took on the tenancy of Primrose Farm and farmed it for 40 years. At his death, during the agricultural slump of the 1930's, his widow and two daughters were forced to move out, to Mere View, where Rosie was the home bird while Edith entered public life in a voluntary capacity, as a local councillor, organist, Sunday school teacher and a guardian of the House of Industry, (later to become the Workhouse) Meanwhile the Worman family took it over, as a dairy farm and now the McInnes Skinners own it, and breed horses and sheep.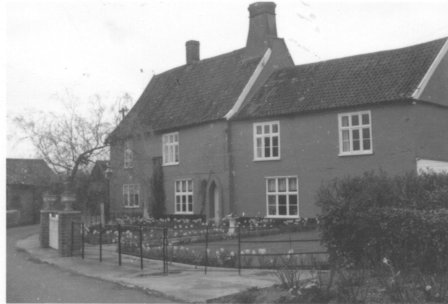 Primrose Farm

VICARAGE FARM -
Was taken over by Leonard Cook, his wife and Basil Cook, his son took over after Leonard's sudden death, when Basil was just sixteen years old. This was a mixed farm, farmed by him, with his mother and he acquired buildings in Hospital Road where he kept his cattle until specializing in farming became a necessity and he sold the site, on which three modern buildings were built. At Mrs. Cooke's death the house was used in a variety of ways, by St. George's school and the hospital till Anthony Cook married, moved in and modernized it.

ROSE COTTAGE - The Green
Rose Cottage was built in the early 19th century. At one time it was owned by Mr Burgess and "Teacher Read" lived there till her husband died and she left the village. When Basil Cook bought it Mr & Mrs Swithinbank had rented it, He was stationed at Watton and, newly married, their children were born in the cottage. Life was fairly primitive and her only form of transport was a bicycle. Basil and Jo Cook moved in as newly weds in 1955. At that time there was a pond near the back door, an old cellar off the pantry which filled with water in winter and the floor in the minute kitchen was worn down in the middle by frequent footsteps to the pantry. There was a wash-house with copper etc. attached to the kitchen and this room was used as a Sunday school when Mr Buck first came as our Rector. He picked the children up after school on Friday, dispensed drinks and biscuits and then Mr Buck and Eva Browne, whose husband developed Hillside Crescent, started the first 'Sunday School'. This moved to the school in time and developed into a 'Discoverers Club' and a church choir. There was a mushroom house in an old Nissan hut by the back door of the cottage. This has seen many uses over the years including teenage parties, a magistrate's dinner and later the parish office. It is still invaluable though without the polygonum (given by Jack Blake) and Virginia creeper and wisteria it would be very unsightly.
Over the years the drawing room has been extended, the kitchen has developed from being a room, to a bedroom for Miss Cook and ultimately a good sized kitchen cum living room. A pantry, office, garage and three bedrooms upstairs have been added. Derelict farm buildings were cleared to make way for poultry houses, barns etc.. The path running from the front door to the road was removed for the safety of the children. All but one old apple tree was taken out. This Bramley was completely blown over by the severe gale in the 1990s but was propped up again and still bears abundant fruit. Other fruit trees have been newly planted but the oak and chestnut were self-sown. The sycamore was transplanted as a seedling by Anthony Cook. The cedar and mulberry trees were planted by a former Bishop of Norwich (young wives in attendance) and the Atlantic Cedar was a Silver Wedding present to Mr & Mrs Basil Cook. This had to be replaced because the tie had dug into the trunk and it snapped off.

When Basil Cook moved from Vicarage Farm, Rose Cottage became for sale and he moved across the road, leaving his mother, Mrs. Cook with the farmhouse. Mrs Cook played the organ at Crownthorpe church till it was closed. Katherine Gray has carried on the musical tradition, and runs the High Oak Music Group, of which Mrs Cook's great-granddaughter Charlotte is a member, and showing signs of musical ability. John is an expert in computers etc.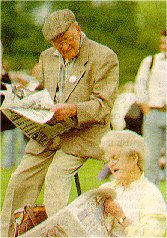 Basil and Jo Cook

One Cook, related to William Cook of Primrose Farm, turned his back on country life and took off to London. Starting out in a draper's shop ultimately his son bought and owned it, (Cook's of St. Paul's), married a Portuguese heiress, and ended up bequeathing his garden (in which he employed eighty to one hundred gardeners) to the Portuguese Government. It seems that they are not particularly grateful, and it is rather a wilderness, but it was mentioned on Gardeners' World that someone is going to restore it. That branch of the family were artists and had a big art collection, which was recently sold at auction. (No descendants had houses big enough to hang them.) Another descendant settled in Jersey and at his death, his widow bequeathed all his paintings to the island, which hang in a disused Methodist chapel, part of which is used by their government to store and restore archaeological finds etc.

Basil became chairman of the parish council, churchwarden, J.P. and the first chairman of South Norfolk District Council. he was largely responsible for the building of the council offices at Long Stratton. When the general public and the supermarkets demanded standardisation of their food, egg production of necessity had to conform and now there is an egg producing and packing station on the site, the farming otherwise being wheat (for poultry food) and sugar beet plus a little oil seed rape.

OAK TREE COTTAGE - The Green This was a typical tied cottage when Fred Wigby (of Radio Norfolk fame) lived as a boy with 'Miss Millie' living next door. As all young people had to do, before the War, he had to 'get on his bike', to look for work and became an engineer in the Royal Navy, then a porter at the University of East Anglia. Fred has had three books published. Other residents there were the Whitbreds and Frenches. Katherine Gray, Basil and Jo Cook's daughter, moved in to the cottage on her marriage to John Gray, a technician at the U.E.A. Mrs French lived in part of the cottage until she went into a nursing home at the end of her life.