Social History...
Wicklewood Mill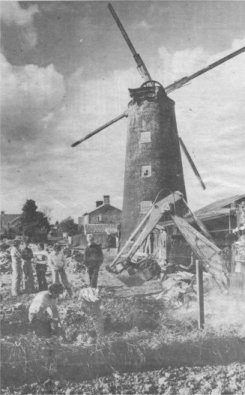 Wicklewood boasts a very old windmill.
The 140 year old mill was formally handed over to the Norfolk Windmill Trust in 1980 by its owner, Mrs. Edwards.
The restoration has cost over £20.000 and has been carried out by Mr. John Lawn. He began work on the main beams and floors in 1978.
He built a new cap, frame and fantail in his workshop at Caston mill, and supervised the lifting of the eight ton structure on to the mill. It is soon hoped to replace the shutters and have the mill in working order.
Now, in 1985, the Trust are replacing the stocks and sails.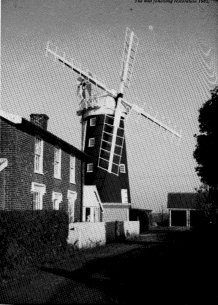 Miller's Life.
This account of a miller's life was written during Mr. Denis Wade's retirement.
He died in 1973.He worked in the mill at Wicklewood from 1908 to 1942.
When he left school at the age of 14 he found a daily job of sweeping the mill from top to bottom.
He took with him a spider frightener, which was made from a broom handle and a bundle of twigs tied together with string.
This was used to clear the cobwebs and spiders from the rafters.
The millers would grind between 35 and 40 coombe of grain in about 10 hours.
If the wind did not blow until after tea they would continue grinding until 4 o'clock in the morning.
In 1911 an iron head wheel was fitted. Denis and his brother painted the mill from a boatswains' chair.
The mill ceased production in 1942.