Social History...
Village Life
Post Office
In 1900, the Post Office was at the main shop, which sold groceries, drapery, newspapers etc. Mr. Fred Anscombe was the sub-postmaster and there were two postal deliveries each day, by bicycle. Telegrams came from Morley and there was a pillar-box at the crossroads. It was quite usual for a post card posted in Norwich in the morning, to reach it's destination the same day, as the last delivery was at 8:00 p.m..


The Post Office 1960's

Wicklewood Public Houses
There were four public houses in Wicklewood of which only one remains. This is the Cherry Tree at the corner of Hackford Road and High Street. The Bricklayers' Arms was in Low Street and is now a private house. The Kimberley Arms was on the corner of Low Street and High Street, and reminds us that much of Wicklewood was owned by the Earl of Kimberley of Kimberley Hall. My father's uncle was the landlord, and the brewery was Patterson's of Norwich. The house is about 75 years old. The Wild Man now another private house, stood back some distance from the road at the bottom of High Street.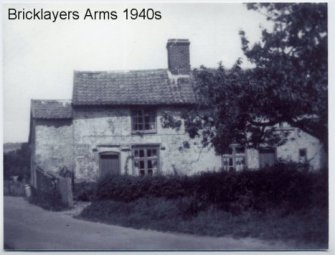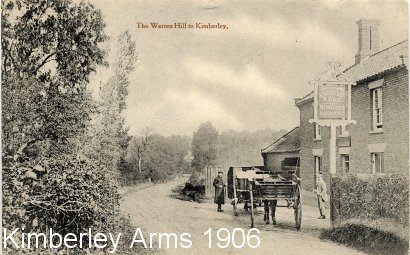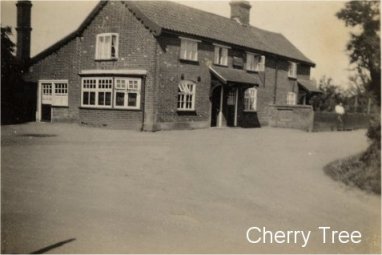 Poverty
Although there was a lot of poverty in Wicklewood in the early years of this century, people were concerned for others both in and out of the village. As early as 1897, when the parish was discussing the Diamond Jubilee celebration, they were mindful of 'the starving Indians' and in the same year a subscription was set up to buy a cow for 'a much respected parishioner'. In 1900 there was a collection for widows and orphans of the Norfolk Regiment, whose husbands and fathers had been killed in the Boer War. There was a 'Sick and Burial' club which held annual festivities as there was no welfare state or insurance, and it was the peoples one dread to wind up in the workhouse and have a pauper's funeral. The fear of not having a decent burial persists to this day An employer's Liability Act was introduced.

There was a Young Helpers league, whose secretary was Miss Edith Cook. This raised money the Dr Barnado's Homes and a boot and shoe club was restarted in 1905, having fallen into abeyance. Some boys went to the Watt's Boys Naval Home which used to be at North Elmham. To get there by train from Kimberley station, you got out at County School halt. All the proceeds from Harvest Festival collections usually went to the Norfolk and Norwich hospital, together with giant marrows and other vegetables. When in 1906 a man with five children fell ill, he had not contributed to the 'club' so neighbours contributed generously, and when the Band Master had an accident the Rev. Mansbridge encouraged people to join a Friendly Society
1897 was the year of the Queen's Diamond Jubilee, and permanent flag staff was erected on the tower by Mr. Harry Buck (the village carpenter) "and a magnificent ensign floated over the loyal subjects of the Queen who came to church"

There was a Public Dinner, Sports and Dancing. Beer tickets were issued to avoid unfairness, but human nature being what it is these were not used properly and some got more and some less of their share. In February 1898, the Vicar took a break and wrote to his flock describing a voyage through the Bay of Biscay, where there were cows and chickens on board, so fresh milk and eggs were available. There was also electric light (electricity came to the villages in 1933.) He was heading for Ascension Island, St. Helena and South Africa. On his return he took a party to the Missionary Loan Exhibition in a special reserved railway carriage from Kimberley station.

Crownthorpe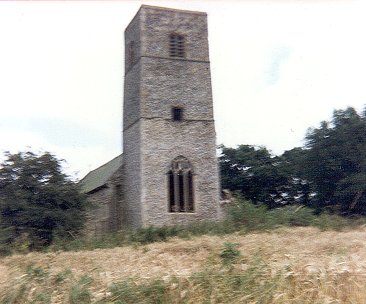 Crownthorpe lies to the east of Wicklewood and was once a separate parish. The church is now ruinous. Recently some fieldwork has brought to light a Roman settlement on a Roman road from Denver to Caistor (Venta Icenorum).

Second century Roman military equipment was also found although the legions were not then based in this area.
During the First World War a British plane crashed in a cornfield and a bomb landed near St. George's School. There were two brothers who made top quality boots, a baker, butcher, blacksmith and a carpenter. There was a post office in the village.

My grandfather went to live in Wicklewood when he was two years old, in 1907, and lived in a thatched cottage. In 1912 there was a bad flood and a boy and several cows were drowned. The first motor in the village was a privately owned bus and it provided the first service. There were four public houses called The Wild Man, Kimberley Arms, Brickmakers' Arms and the Cherry Tree. Only the last remains. The mill was worked by a father and two sons and the miller could be seen milling at night in his nightgown if the wind was strong! Anon

We interviewed (by whom and when unknown -TE) Cissy Buck who is 80 years old and has lived in Hackford for 75 years. She lives in a house, built in 1866, that used to be a shop until about three months ago. Cissy's family had owned the shop for 80 years. In the past there was no electricity and they obtained water from a well in her garden. The roads were narrow and made of stone and earth. The first person to own a car was Mr. Watling. Work was associated with agriculture, such as horsemen and cowmen. There was also a blacksmith. She attended Wicklewood School which had strict teachers, and left at14 years of age. There were two public houses in the village called King's Head and Red Lion. A bomb dropped near the church. War time evacuees left after the war.

The Village at War
In January 1900, the Norfolk Regiment went to the Boer War, with two Wicklewood men amongst them. Five years later, John Saunders was in the Russo-Japanese war.
In January 1916 a bomb dropped on George Breeze's allotment. The Germans thought that Wicklewood Workhouse was a barracks they mis-aimed.
The Home Guards' duty in World War Two was to protect the waterworks. There was a searchlight site at the Vicarage Farm, and three bombs were dropped on what was Mr Chasten's land in Green Lane. Local Government
In 1896 it was the duty of the District Council (Forehoe and Hempstead) to test drinking water much of which came from wells in people's gardens, inspect dustbins and improve roads. Roadmen, known as 'Lengthmen' were employed to keep a certain length of road in good repair. They would be seen working along the roads with their barrows and shovels Mr. Defew, who was killed in the First World War, was one of these, Billy Allen was the last - he died in at 1988. in 1899 the County Council sent a horse shoeing training van round the village. Village Sign
The Parish Council decided to erect a village sign to commemorate Queen Elizabeth's Silver Jubilee in 1977. There was a competition for the best design and these were displayed in the village hall on Silver Jubilee Day.
The winner at that time lived on the Hackford road. The sign depicted the mill and a horse ploughing.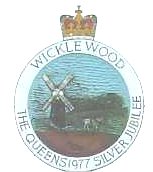 It was unveiled by Basil Cook; Chairman of the Parish Council., the garden surrounding it is maintained by the Wicklewood Guides.

Notable Village landmarks
1841 National school in churchyard built. Demolished 1895
1897 Parish room erected.
1900 Four public houses, Cherry Tree, Wild Man, Bricklayers Arms and Kimberley Arms.
1902 New church gate and turnstile made by Mr Buck
1903 Wade's butcher shop opened.
1904 Village Hall being built. Parish Room had become too small. Opened Oct 5th Architect – Boardman. Builder – Larner of Dereham.
1908 Two Primitive Methodist Chapels existed.