Social History...
WICKLEWOOD PRIMARY SCHOOL
Wicklewood County Primary School was built in 1878. It opened on Monday, 20th January, 1879 with 65 pupils.
By February there were 99. Today there are 56 pupils taught by three teachers and a part-time teacher. We also have a welfare assistant, secretary, crossing patrol, and a caretaker. Our lunches are cooked at the school.
The school originally consisted of the school house and two classrooms. These rooms are now the hall and computer room .In 1982 the house was changed into an infant classroom, with offices and stores upstairs. Two classrooms were added to the original school in 1908. They all had open fires until the end of 1945. Pupils stayed at the school until they were 14 years old, but in 1939 all the older pupils transferred to Wymondham Secondary School, now the High School.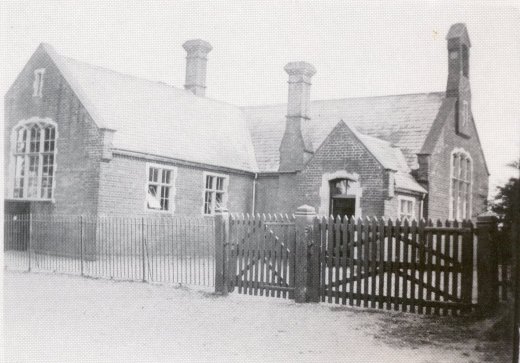 The School 1921
A Typical School Day (late 1970s)
My name is Carl and I live in Wicklewood which is near Wymondham, in Norfolk. I live with my Mum, Dad and sister. I rise at 7.30 and at 8.25 I leave for school. Sometimes I cycle and at other times I walk. When I get to school I play 'Bulldog'. One person has to stand in the middle of the playground and try to touch the others who run across. At 9.00 we go into school for registration and assembly. Then we work for an hour at mathematics or English. At 10.30 we go until noon doing topic work, health education and so on. Then we have our lunch and are free until 13.15 We may have art, games or drama or one of the subjects from the morning's list. We have another break at 14.30 for 15 minutes and school ends at 15.30.
From Mrs Joy Jermany.
During the war my sister Betty (Mabel Poll) married Jimmy Rayner and to stop her going into an ammunition factory to work, I was asked to live with her. I went, but would only go to Wicklewood School for one day and did not like it and then went back to Wymondham Browick Road School. I did not like the teacher, Miss 'Piffy' and I did not like the old pail toilets. Betty as well as the school had them and I was used to flush ones.
As far as I know our daughter Diane (late 1970s) is the first person from an ordinary family to start at Wicklewood School (and while there in Mrs Sherry's class was the first one to read all the books in her class except one that they could not find.). Then on to Wymondham High then Wymondham College for 'A' levels then Ormskirk College, Edge Hill then to become a primary school teacher.
When Arthur went to Wicklewood school all the boys used to have to dig the school garden and once a week for woodwork they had to walk to Kimberley station then go by train to Wymondham then walk to Browick Road school do their woodwork lesson then walk back to Wymondham station then train to Kimberley then walk home.

Arthur Jermany's brother, Ted recalls that during his schooldays his teacher Miss (Piffy) Catton would often sit in the classroom eating currants, sultanas and raisins from a paper bag while the class got on with its work. She was known to take a swig or two of 'tottie' from a small bottle as well. Miss Catton was taking the class in exercises in the playground one day when the elastic in her knickers broke and they fell down causing great hilarity amongst the children.

She shuffled indoors trying to hold them up. He always knew when the Headmaster, Mr Bertie Topham wanted a bath. It was his job to pump the water up so that Mr Topham could have his bath. The school house was at the end of the school then, it's now been converted into classrooms.
The Old Schoolroom
The former school room was in the churchyard; built in 1841 as a National School "on a portion of consecrated ground cut off for the purpose by permission of the Bishop" The National Society was responsible for its repair while it was used as the National School. When it was closed, the repair of the building became the responsibility of the Vicar. In 1895 the Bishop caused it to be removed. It had been for two or three years used by a class of lads for carpentry but had become an eyesore. This freed up space for burial in the churchyard.

In 1899 an epidemic of whooping cough closed the school and in 1906 an outbreak of scarlet fever in the school, originating with two brothers was the cause of a further closure.